DISCOVER THE BEAUTY OF ALASKA
Book one of our cabins and see why the Kenai Peninsula is considered one of the world's best locations for
outdoor adventures and wildlife viewing. We've developed friendships and partnerships with some of the best fishing and wildlife guides around and we'll help you plan the perfect Alaska vacation.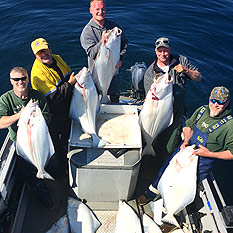 World-Class
Salmon Fishing
The Kenai River is home to the mighty King Salmon, Sockeye Salmon and the feisty Silver Salmon. It still holds the record for the largest salmon ever reeled in and draws thousands of anglers from across the world each year. Known as the premier location for sport fishing in Alaska, the Kenai River will not disappoint.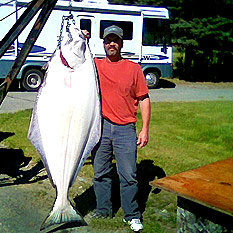 The Halibut
Capital of Alaska
If open water fishing is what you're after, Cook Inlet is ideal for Halibut and Ling Cod fishing. Bait your hook and hold on as you try to reel in a massive halibut that can weigh anywhere from 15 lbs. to upwards of a couple hundred lbs. June through August is the time to come if you're looking for Halibut.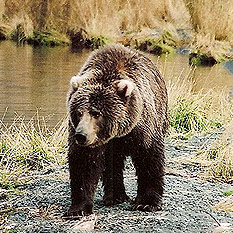 Alaska Bear Viewing
When you think of Alaska, often the first thing that comes to mind is bears. And seeing any type of bear in person, whether it's a Black Bear or even a Grizzly Bear, will leave you amazed. When you take a wildlife sightseeing guide or charter, you'll get the chance to see these strong and incredible animals up close.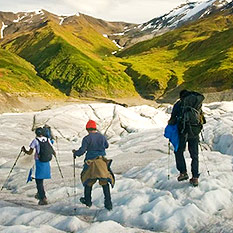 Alaska Hiking
The Kenai Peninsula is an outdoor playground with incredible views and unbelievable scenery. Our cabins are minutes from multiple hiking trails, perfect for getting away, exploring nature and seeing some spectacular wildlife. We're happy to help you find a hiking trail that's just right for your skill level.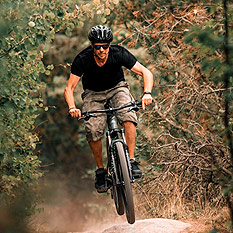 Mountain Biking
One of the best ways to see Alaska's expansive and beautiful scenery is exploring the numerous mountain biking trails. You'll see snowcapped mountain ranges, crystal clear lakes and majestic wildlife. Some of Alaska's best mountain biking trails are right here on the Kenai Peninsula!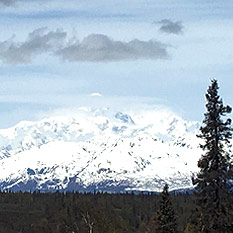 Glacier Tours
Alaska is home to most of the glaciers in the United States! There's no better place to get up close and personal with icy and awe-inspiring glaciers. Whether you hike, kayak, take a guided tour, hop on a helicopter or cruise on a river boat, our cabins make the perfect home base to explore the glaciers of Kenai Fjords National Park.
Come and see all the exciting adventures
Alaska has to offer. Contact us today
Hi! We're Nick and Pam. We've been living in Alaska for over 25 years and loved every minute of it!
A few years ago, we noticed there were a lot of lodges and big cabins for rent, but not as many affordable personal cabins.